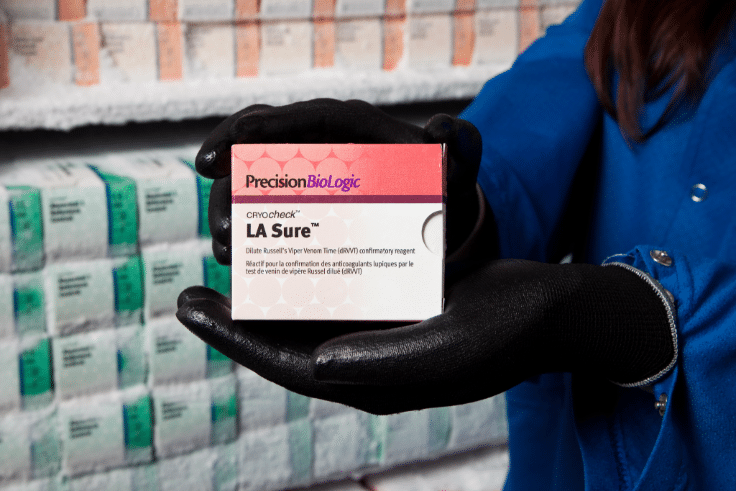 Cold Hands, Warm Hearts
This might come as a shock, but we think it's a virtue to be cold. That's right, the colder the better. And yet, if you speak to our customers, they'll tell you how warm we are and how hard we work to make their lives in the lab easier.
We're Precision BioLogic and we help hemostasis labs around the globe deliver timely, accurate results.
How do we do it? By developing and delivering high quality frozen diagnostic products backed by a team of knowledgeable, caring professionals. And why do we do it? To improve the quality of life for all through scientific innovation.
It's an ambitious vision but we're committed to doing our part to make it a reality.
Our Customers Are Our Inspiration
We didn't always specialize in frozen diagnostics—the idea crystalized in the early 1990s after careful observation and discussion with our customers as they sought ways to operate more efficiently and deliver accurate results to help diagnose and treat patients.
And thus, CRYOcheck™, our line of frozen hemostasis products, began. First with a normal control for PTs and APTTs that could also be used as an alternative to in-house collected pools of normal plasma, and then later with a suite of frozen controls, calibrators, reagents, and diagnostic kits. All designed to help labs save time and money while reporting test results with confidence. And all supported by our dedicated team of experts.
Our story does not end there, however. We have expanded our collaborative approach to include industry thought leaders, as well as biotech and pharmaceutical partners, as we develop new products to improve lives by addressing current and future challenges in the diagnosis and management of disease. We've also expanded our manufacturing capabilities and product offerings with the acquisition of Affinity Biologicals, a primary manufacturer of products used worldwide in thrombosis and hemostasis research and diagnostics.
Frozen diagnostic products. One simple idea, many cool benefits.
Learn more about how Precision BioLogic and our frozen diagnostic products are helping labs save time and money.
Innovation Through Collaboration
Learn more about how Precision BioLogic and Affinity Biologicals are advancing hemostasis diagnostics and research.
Respect, cooperation, collaboration, compassion, and accountability—with customers as well as each other—are the foundations of our organization. We're very passionate about carrying these values through everything we do and trust that if you're interested in working with us, you will be too.
Paul Empey, President and CEO, Precision BioLogic