Factor VIII Deficient Plasma with VWF
Reagents
CRYOcheck™ Factor VIII Deficient Plasma with VWF is intended for use as a deficient substrate in clot-based factor VIII (FVIII) activity assays using the activated partial thromboplastin time (APTT) method.
It is manufactured from platelet-poor human plasma, which is immunodepleted and assayed at less than 1% FVIII activity by functional and antigenic methods. von Willebrand Factor (VWF) is then reintroduced, resulting in a deficient plasma with normal levels of VWF and FVIII antigen levels of less than 1%. The importance of FVIII antigen levels in the performance of FVIII deficient substrates was demonstrated in a study presented at ISTH 2021.* VWF activity and antigen levels are available for every lot. The plasma is buffered and frozen, resulting in a top quality product that is consistent vial to vial.
Frozen format eliminates reconstitution errors
Factor VIII antigen level less than 1%
Contains normal levels of VWF activity and antigen
24-hour stability once thawed if refrigerated at 2 °C to 8 °C in the original capped vial
Plasma components are screened negative for all FDA-required tests
* A. Wood, N. Kesavan, A. Sadeghi-Khomami, K. Black, M. Boylan, R. Ni, J. Della Maestra, P. Erb, D. Foulon, H. Hoogendoorn; ISTH 2021; The Impact of Inactive FVIII Antigen in Factor VIII Deficient Plasma on the Measurement of FVIII Inhibitors.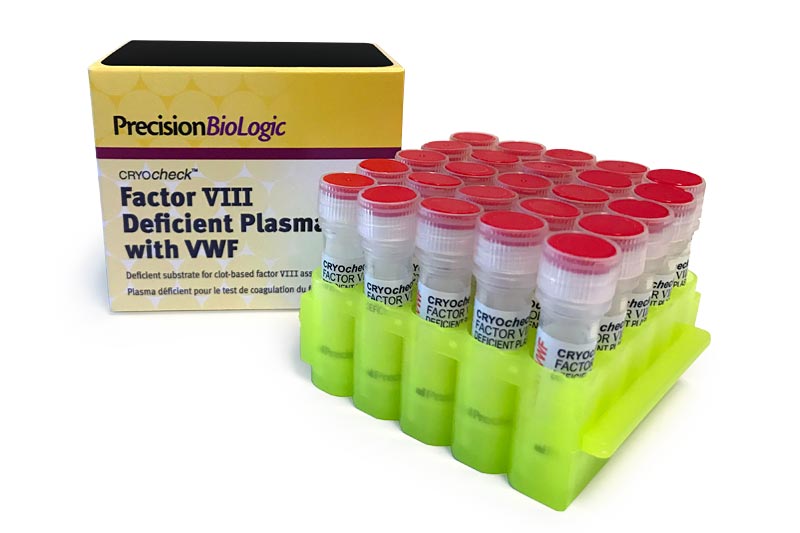 Specifications
Storage and Shelf Life
Storing
between -40°C and -80°C
Expiration
2 years after manufacturing date
Available Formats
| Cat # | Format |
| --- | --- |
| FDP08VWF-10 | 25 x 1.0 mL |
| FDP08VWF-15 | 25 x 1.5 mL |
US, Canada, EU, UK, Australia, and New Zealand.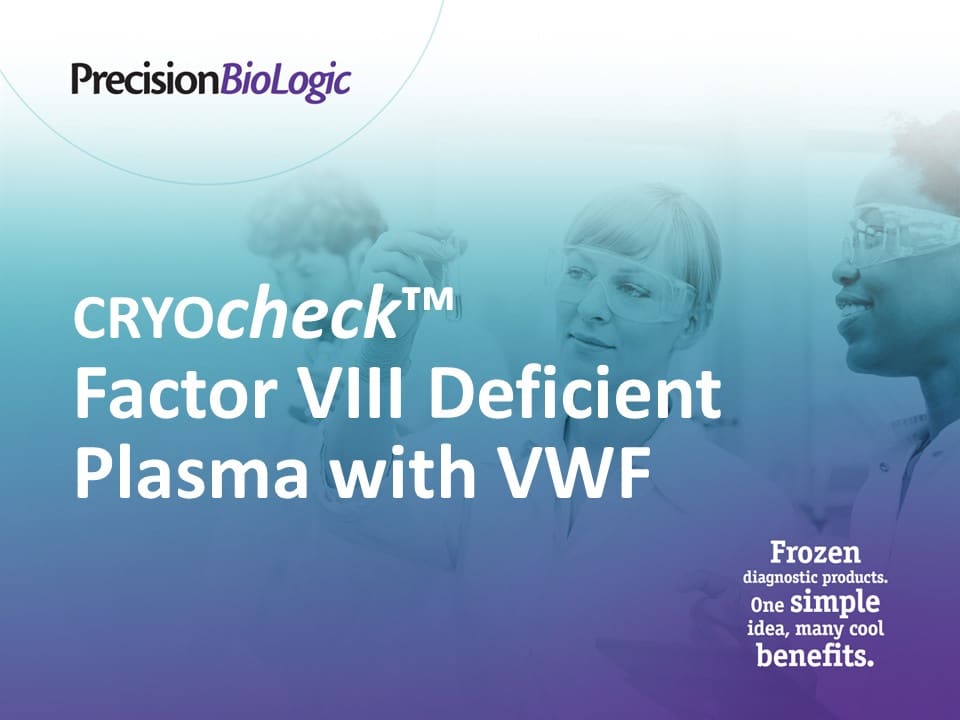 Webinar
Factor VIII Deficient Plasma Comparison
As part of a recent study, Precision BioLogic looked at eight different in-market factor VIII deficient plasmas with varying levels of vWF, vWF antigen, and FVIII antigen.
Watch now