Hex LA
Diagnostic Kits
CRYOcheck™ Hex LA™ is a qualitative test kit to aid in the detection of lupus anticoagulant (LA) by the application of hexagonal phase phospholipids.
CRYOcheck Hex LA is an integrated (screen and confirm) silica-based APTT assay. The presence of LA in a sample is confirmed by the correction of APTT clot time upon addition of a reaction mixture containing hexagonal phase phospholipid. By comparing clot times of patient plasma both in the presence and absence of hexagonal phase phospholipid, the presence of LA can be confirmed. CRYOcheck Hex LA's LA Start and LA Correct reagents contain pooled normal plasma and a heparin neutralizer. This ensures that prolongation of clot times due to factor deficiencies are corrected and that the assay is unaffected by heparin levels up to 2 IU/mL.
Convenient frozen format ready to use within minutes, no reconstitution errors
Intended for use on automated coagulation analyzers
Simple format: minimal vials means less preparation time and faster results
Unaffected by unfractionated heparin (UFH) and low molecular weight heparin (LMWH) up to 2 IU/mL
Dabigatran, rivaroxaban, and fondaparinux do not interfere with the interpretation of CRYOcheck Hex LA results nor does C-reactive protein*
Compact, color-coded packaging for easy storage and identification in freezers
8-hour on-board stability
* may increase delta correction of LA positive samples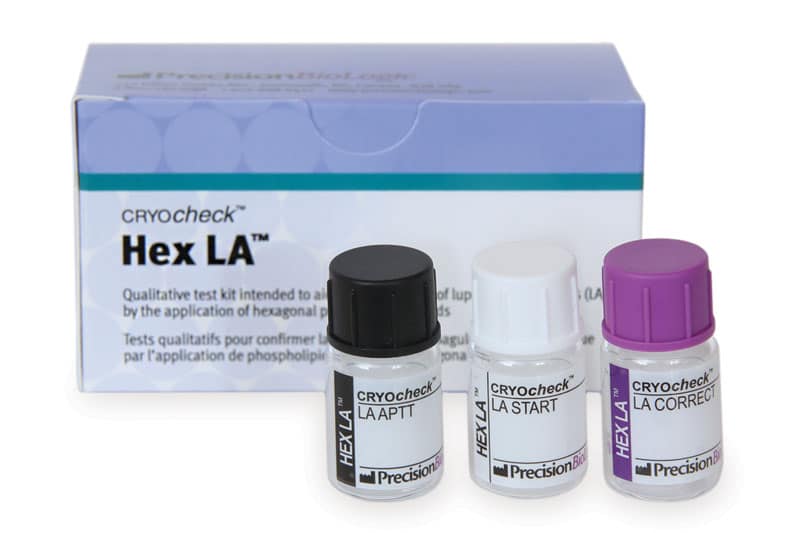 Specifications
Storage and Shelf Life
Expiration
3 years after manufacturing date
Available Formats
Cat #
Format
HEXLA

2 x 1.5 mL (LA Start)

2 x 1.5 mL (LA Correct)

2 x 3.0 mL (LA APTT)

HEXLA-7

2 x 1.5 mL (LA Start)

2 x 1.5 mL (LA Correct)

3 x 3.0 mL (LA APTT)

HEXLA-M

2 x 1.0 mL (LA Start)

2 x 1.0 mL (LA Correct)

2 x 2.0 mL (LA APTT)
US, Canada, EU, UK, Australia, and New Zealand
Scientific Poster
Effects of Common Interferents in Hexagonal Phase Phospholipid Neutralization Testing
Numerous assays exist to detect LA, varying greatly in their principle, sensitivity, and specificity. In this study, we examined the effects of common coagulation interferents on two different hexagonal phase phospholipid neutralization tests to understand how they may affect the interpretation of results in LA testing.
Read now